In the menus below you will find booking for laundry, multi-room and canoe/kayak. You can also use this page instead for direct booking, by selecting one of the links below:
Direct links for booking
In the following sections you can read more about how you make a booking in the different systems.
Laundry facilities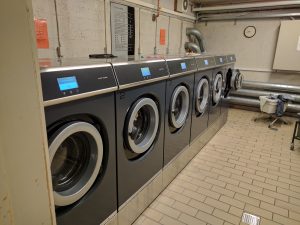 You use the above-mentioned link to visit e-vaskeri.dk, which is the system Nortec has developed for booking. To gain access to the system you have to log in with the password and e-mail you have chosen. If you have forgotten your password, you are able to reset it, and if you have not set up your profile then this is done by using the code you received when you moved in. If you are still unable to gain access to the system then contact the Inspector.
To see information on how to use the laundry facilities and its prices, see page Laundry facilities.
Multi-room og canoe/kayak booking
Use your login for K-net to make a reservation. Remember to respect the already existing reservations. You can read more about this under Multi-room and Canoe- and kayaks. Follow the instructions there and show responsibility when using the facilities.