One of the many advantages of living in a dorm is the many facilities it offers:

About the dorm's facilities
The facilities make it easier to enjoy your every day in you tough study life. This means that you'll have more time to focus on what matters most. Additionally, they help with making life at the dorm cheaper for you, so that you can better take care of yourself and your possessions. With these facilities you can for example:
repair your bicycle – in dry weather
keep your motorcycle in a locked shed
enjoy the sun on our large communal areas
The facilities help you take care of the environment through garbage sorting. It is one of the better sorting systems in the country. There is a quaint study room in the basement of the dorm. It can be used for working alone or in a group. It contains a whiteboard, power in the table and room for up to 8 people. Booking can be found here: Booking.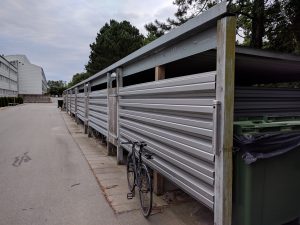 If you experience any problems, we then urge you to contact the Inspector, who often can solve the problem quick. By doing this you ensure that the problem is addressed as quick as possible for both you and your fellow residents.
Keep in mind that some of the facilities are closed for parts of the year, due to weather. It doesn't make sense to row in a kayak during the winter, and for the same reason it doesn't make sense to damage the water hose, which can be used for cleaning your bike. During the year it is the Inspector, Residents board and the many Committees that take care of the facilities. Remember that it is the work of volunteers that drives the dorm, so please consider joining a Residents meeting to learn more about how you can help.
If you are new to the dorm we recommend that you read Moving in and ask your kitchen for more information. Your kitchen probably knows how everything works and have most definitely additional facilities to offer.