The dormitory gets internet from the voluntary internet provider (ISP) K-net, for which the network committee takes care of the daily tasks. K-net gets delivered 10 Gigabit connection that is shared with 11 dormitories. POP has a gigabit connection to K-nets fiber central and all rooms have the gigabit cable internet connection in exchange of 11 kr per month. Additionally the dorm has a common wifi so that you don not need any equipment to get on the web.
Forgotten code
You reset your password with here: https://reset.k-net.dk/
If that doesn't solve your problem then you are more than welcome to contact us on netgrp@pop.dk or come by when we are home.
How you get internet
To use the network at the P. O. Pedersen dormitory, you have to start by being set up as a user with someone from the network committee. You'll find the committee's members on the VIP-list. It is needed to be there physically when one of the committee's members sets up your account. So please refrain from sending an email about opening your internet connection. You'll only be advised to do what is specified.
Typically you can get in touch with the committee almost immediately after moving in, however refrain from writing an email. We will get home soon if we are not answering our doors. The committee is built upon voluntary work which cannot be expected to be on call 24/7. We will do the best we can. Remember that like everyone else in the dorm, we have studies which means we will not always be available.
Are you worried about being without internet and do you want to make sure it is ready by the time you move in. Then you can after signing your user statement come to the dorm and contact the network committee. Remember, things will not go faster by writing an email since we can only set up your user when you are here in person.
WiFi
A lot of smart devices cannot access K-nets wireless network, for example Chromecast and smart tvs. In these instances you can get them online by inserting a ethernet cable or buy your own router.
If you buy your own router then it needs to transmit at minimum strength on the lowest channel for 2.4 GHz and 5 GHz respectively. Furthermore, your SSID/network name needs to identify which room the internet is. For example: POP077 for room 77. It is STRONGLY recommended to use WPA2 AES encryption with a strong password on your wifi network.
About K-net
The dormitory is a part of a network collaboration between all the nearby dormitories which is called K-net. This collaboration facilitates the traffic between dormitories, DTU and the internet connection. You can read more about K-net on K-net's homepage: K-net. Organisation wise, the dormitory placement in the collaboration looks like this: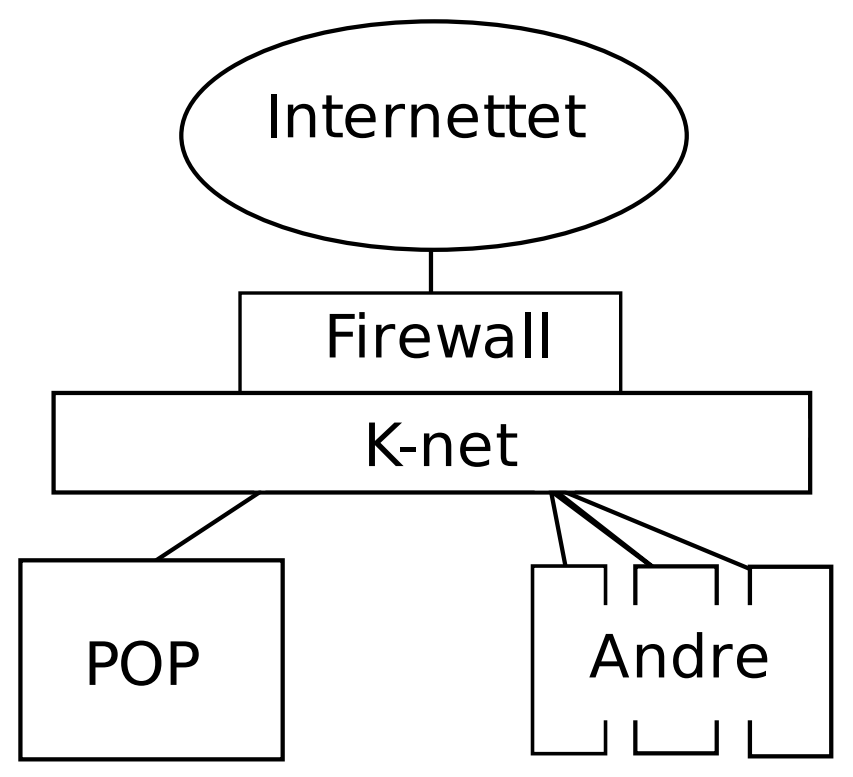 If you have questions about the network, then you are very welcome to contact the network committee. K-net (ISP) delivers internet to POP. You will find them on the VIP-list.
Open Source
Several of our systems are open source and can be found on Github. See list below:
Continuous improvements
About September/October/November 2015: POP's web server stops working due to too many hard drives in a RAID stopped working. The result is that the POP website, mailing lists and more are lost and the website is offline.
January 2016: Mailing lists are up and running again after they went down with POP's web server recently. Various corrections in mailing lists followed after it running again. POP's website is still down at the moment.
February 2016: New PoE + switch to have the surveillance system at the dorm was purchased. It is an "HPE 2530-24-PoE+". The same month, a new Synology RackStaiton RS815RP+ is purchased to replace the old recording box in combination with some corax IP-camera converters that run on PoE power.
April 2016: A little rack kit for the Synology server is bought so it can sit nicely in the basement 😉
June 2016: falladen.dk is transferred to a DK-Hostmaster account for P. O. Pedersen Dormitory.
July 2016: New system for writing users to our mailing lists via Google Forms. Note about the inconvenience of not having automatic user creation via an integration between POP, K-Net, and PKS. The network group has a work day. The network group is looking at a new website. It will be supplemented with a new AP for the wifi system for the meeting room in the basement (Multi-room) which has been renovated recently. At the same time, the network group is looking at making new drop cables for WiFi, as the old ones are poor and have faults in some places.
August 2016: New Drupal website to be set up on pop.k-net.dk. Our old website also ran Drupal. POP now has a website again, yeah!
August 2017: New WordPress website with a lot of content that was previously lost, but has been found again is set up in a new design which is mobile friendly. At the same time, new content has been created and we have been around taking some new pictures for the website. This is the page that is still running here in February 2021.
September 2017: the info@pop.k-net.dk list is replaced by a system on pks.dk which can send emails to everyone at the dorm. This eliminates the need for the network group to maintain a system that can send emails to everyone in the dormitory. There have also been problems with many not receiving the emails sent to info@pop.k-net.dk. Now it is PKS who takes care of it.
January 2018: The weekend of 20-21. January 2018: Block 2 has now taken the new cables into use. All hallways have 6 APs and defective APs have been replaced. Initial observation is a better network at all tested locations, without any known holes. Block 1 will receive the same treatment later.
April 2018: New POP booking system for Canoe/Kayak booking and booking of the Multi-room. Uses K-Net login, same code as for the common wifi.
July 2018: The network group starts looking at a new mail system, as operations on its own server is not working so well and that much is ending up in spam. We are testing Zoho mail first to see if we can do something for free.
August 2018: New system to reset password if forgotten. Works for K-Net users on POP via email. This means that users can now regain access themselves via self-service without having to approach the network group.
March 2019: Replacement of HDD that reported error on Synology surveillance NAS.
July 2018: Lock system moved to network without internet connection. Zoho mail solution.
November 2018: Setup of network surveillance via LibreNMS internally.
December 2018: POP Website server moved to the cloud at Digital Ocean. Switched to Google's mail solution with Google Apps.
January 2019: PoE switches in both blocks have been replaced on lifetime warranty. Minor cleanup on these switches as well as basement switch. Documentation of current setup updated. Wifi in block 1 was up and running again after the downtime since the end of December 2018 (due to crash on switch). Moving servers to POP's netgrp static public IPs (NMS and NAS). Laundry facilities got new VLAN. Surveillance moved to network without internet connection. New IP address plan launched.
May 2019: The network group discovers that pop.dk is no longer in use. We address the current user of the domain who does not want to get rid of it without POP having to pay a large amount for it. We set up a domain complaint case with the "Complaints Board for Domain Names" as we believe it is against section 25 (2) of the "Internet Domains Act".
July 2019: The network group has started to store switch configuration in a git repo so it is easier to compare and we have the configuration in case of switch breakdown.
September 2019: We have merit in the domain complaint case for pop.dk
October 2019: Setup of Mailgun to handle alarm mails from e.g., Synology and LibreNMS. We are getting pop.dk after a domain complaint case. Until Oct 2020, we have used pop.k-net.dk
January 2020: Switch dies on POP (HPE 5120-48G EI Switch with 2 Interface Slots, with "H3C" branding) and is replaced on HPE lifetime warranty. We are getting a replacement, but since HPE does not support 5120 anymore, they "unfortunately" have to find a similar switch which is an "HP 5130-48G-4SFP+ EI Switch". This switch has dedicated SFP+ ports unlike the old one which had dual-personality SFP ports. That means 10x uplink speed possible + 4 extra ports. At no extra cost.
February 2020: The same type of switch that had an error on POP also gets an error on K-net the following month. K-Net has used their 5120 with a 10G SFP+ module on the back which K-Net no longer needs. It will be available and POP will use it in an "HPE A5120-48G-PoE + EI" and can thus implement 10G for both block 1 and block 2. We buy SFP+ modules from Flexoptix to be able to implement this plan. This leads to POP 10G uplink against K-net and at the same time solves a problem that POP has had in the months leading up to this where we have experienced mysterious packet loss. The reason turned out to be that we used our entire 1G uplink during peak hours and therefore needed 10G link against K-Net. The exact date for POP to get 10 gigabit uplink is February 15, 2020.
May 2020: The network group sends out version 1 of the tender material for the network project to obtain prices. Work on this tender material had already started back in November 2018, where offers have also been obtained for smaller parts of the project along the way, which has helped in providing a basis for preparing a more thorough tender material to better describe the task.
June 2020 and July 2020: Negotiations on offers. Specification of ambiguities in tenders, and revision of our tender material. A Site-Survey will also be made where WiFi signal conditions at the dorm are measured to find out what is possible on that front. It turns out that coverage in all rooms will require APs in every 3 rooms which is declared as practically impossible. Therefore, WiFi offers are changed so that it only involves common areas. Kitchens will be included in the list of common areas that must have WiFi.
August 2020: On the last day of August, we can finally accept offers on the cable work and surveillance. However, the final negotiations on network equipment still needs to fall into place.
September 2020: K-Net changes DTU link so that there is no longer a direct link to DTU to get through holes from IPs on K-Net and devices on Eduroam. Traffic to DTU now goes via K-Net's normal uplink without special static routes at K-Net and DTU. For an unknown number of years, it has been the case that devices on K-net have not been accessible due to a special DTU link in K-Net. This is also updated in the figure above.
September+October+November 2020: networking, new fiber backbone, new cabling for all rooms, connectors in rooms moved from over the door to into room. 10G link now possible for all rooms, but equipment costs too much so we get "only" 1G link to each room and 10G backbone at the dorm. Dedicated power with transient protection for network equipment, own HPFI systems now. Shorter cable runs with crossbar in the middle on each floor. Singlemode fiber internally. And much more.
November 2020: New cabling in inspector's office taken into use, clean-up. IP phone uses PoE power now, no longer needs "random" loose switches at inspector's office. At the same time, work is being done on how kitchen plugs should be able to work.
December 2020: Problems with performance on server that monitors networks. Attempts on using SSD in LibreNMS monitoring server to resolve the issue. In the same connection, Ubuntu server was replaced by Fedora server to get SELinux, among other things. Changes without SSD had no significant effect. After the SSD was set up, it turned out that there are still problems with performance, but it is better and just about usable now. Simultaneous tests on server with more powerful CPU without SSD, here LibreNMS seems to run fine. I.e., the problem is a combination of slow HDD and too slow CPU on the old LibreNMS server.
January 2021: Important official election of a new chairman! After the old chairman stepped in, there has been a functioning chairman for a few months due to there not being real meetings in the network group due to corona.
February 2021: The network project now continues in the basement, common areas, surveillance. Work is continuing on how to provide access to common network connectors (kitchen connectors), but no solution has been found yet. Important requirements for the solution have been clarified. The network group has come up with a captive portal with login of up to 8 hours at a time as probably the best way to do it.
Status of systems
A portion of the systems required for Internet access in the dorm are monitored automatically. The same applies to the offers that the Network Committee is responsible for keeping running. You can see the status of our systems here:
What does each element cover?
POP Booking, keeps an eye on our Booking system for booking the Multi-room as well as Canoes and kayaks.
POP NMS Alerts: This is very sensitive and gives an alarm as soon as there is the slightest sign that a switch, a server or an uplink is having problems. We get emails about the problem as soon as it occurs, often faster than can be seen on the status page.
POP NMS Netgrp: Checking the server that monitors our network is online.
POP Self Service: System for resetting the code for your K-Net login. When there is normal operation then the system is without problems
POP Laundry: Monitoring the external system for booking our laundry time slots and to see the status of our Laundry. This only checks that the page can be loaded, nothing else.
POP Website: Check that this page and a few other administrative pages can be accessed.
Another relevant page is:
K-Net is our internet provider. If they have problems then it also gives us problems.
Note: The monitoring is done via UptimeRobot with profit licenses from someone in the Network Committee. While the monitoring works as of today's date (December 17, 2020), it may not run if this site is not maintained for several years.
TV and Radio – Common antenna
Note: There is some knowledge about TV/Antenna in the network committee. However, it is still the core task of the network committee to take care of the network.
You pay your share of the large TV package from Boxer to your kitchen over the rent. See what you can see in your kitchen here: boxertv.dk/tv/boxer-max
The TV signal box in rooms and apartments does not work from January 2023 forward.
Other options for watching TV
You can stream TV over the net. Read more about the dorm's internet connection above.